Dr. Battery's ground-breaking Green Series are powered by the next-generation lithium-ion battery technology from our top tier strategic partners: Boston-Power® and Leyden Energy.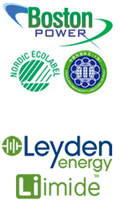 Boston-Power is fueled by the unwavering vision of bringing dependable power to everyday applications. It has created a lithium-ion battery technology platform that delivers on the promise of long life , mobility, safety and environmental sustainability.
Leyden Energy is a leading manufacturer of advanced lithium-ion batteries, situated in Fremont, California. It has developed a patented and proprietary lithium-imide revolutionary cell technology overcomes the obstacles of conventional batteries. Longevity, Durability and Stability are indispensable features this innovative series promised to deliver.
Significant benefits over traditional batteries:
1000+ charge cycles
3+ years of like-new performance
3-5 times longer battery service life
Minimize possession cost
Environmentally sustainable
Retains 80% original capacity after 1000 charge cycles
3 Year Warranty30 day Dr. Battery money back guarantee and 3 years for exchange or repair, relax and enjoy using your laptop knowing that you are protected by the Dr. Battery.

1000+ RechargesLike-new performance for over 3 years - finally, a battery you can depend on.

1 vs 3 BatteriesEqual to three conventional batteries, saving you money through fewer replacements.